This past week, I rented a car with G and his friend, Alex, visiting from home. We were on a quest to see one of Victoria's famous sites, the Great Ocean Road.  The road was originally built by returned service men of World War I using little more than picks and shovels. The road runs along the coast and shows famous sites, most notably is the Twelve Apostles, a rock pillar formation just off the coast.
We grabbed our car in the afternoon on Monday and went to to our final destination on Monday and decided to see the road on the way back the next morning/day.
The towns along the road seem suspended in time. The people move at a different pace, and fit admirably in the coast side towns we weave through. My favorite interaction though was in our final town, Peterborough. We arrive their just before 9 and throw up our tent.  We realize its just after 9 and we have some time, since we're in a campsite we decide to go somewhere light, maybe a grab a bite to eat.  Leaving the campground fines us staring at a tavern with the lights on, perfect. I walk in the front door to see one man eating at the bar and no one else to be seen, he looks at me somewhat puzzled.
"Are you open?" I ask
"No, we're closed."
"Is there anywhere else in town that would be open?"
He looks at me and can't tell if I'm serious. "Not at this hour of the night" He chuckles, still surprised I could even think something like that. We walk away, I'm puzzled, I look down at my watch and find it glaring 9:20 back at me. Different pace. At least we were provided a few laughs at our lifestyle clashes…
The next day we start off relatively early, and work our way from the Bay of Martyrs back East. The coastline was generally stunning. The blue-ness of the water was quite impressive, perhaps growing up with the north Atlantic ocean makes other oceans seem that much more impressive. The Twelve Apostles are the most famous site along the road, and are certainly an epic view. They're created because the pillars are of a harder rock than its surroundings which erode more quickly. We take a few hikes at the various locations, the "blow hole" was pretty interesting — water rushes into this hollowed out section several hundred feet from the rest of the coast, and the waves seem stuck inside.
We hiked to a waterfall later in the trip. The waterfall was in the middle of a rain forest, it felt like quite a jungle, it was an impressive site of natural beauty. The path to this particular waterfall was incredibly man made; a man-made metal pathway with high side railings seemed to be some sort of blend between science fiction and video games. In fact the path oddly reminded me of Ray Bradbury's A Sound of Thunder , where they had to stay on the path or risk changing the past.. (and future..)
We continue to cruise the coast line and observe the beauty, it is easy to see why the journey is one of Victoria's famed tourist activities.  We were late returning the car which provided a nice life lesson: don't be late returning car rental. They wanted to charge us for an extra day which we were able to talk down a bit, but it was relatively frustrating…  The trip was a lot of fun though, and I think it was best experienced by just renting a car and going for it.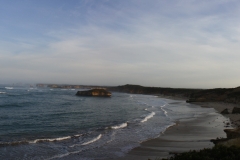 30 Photos